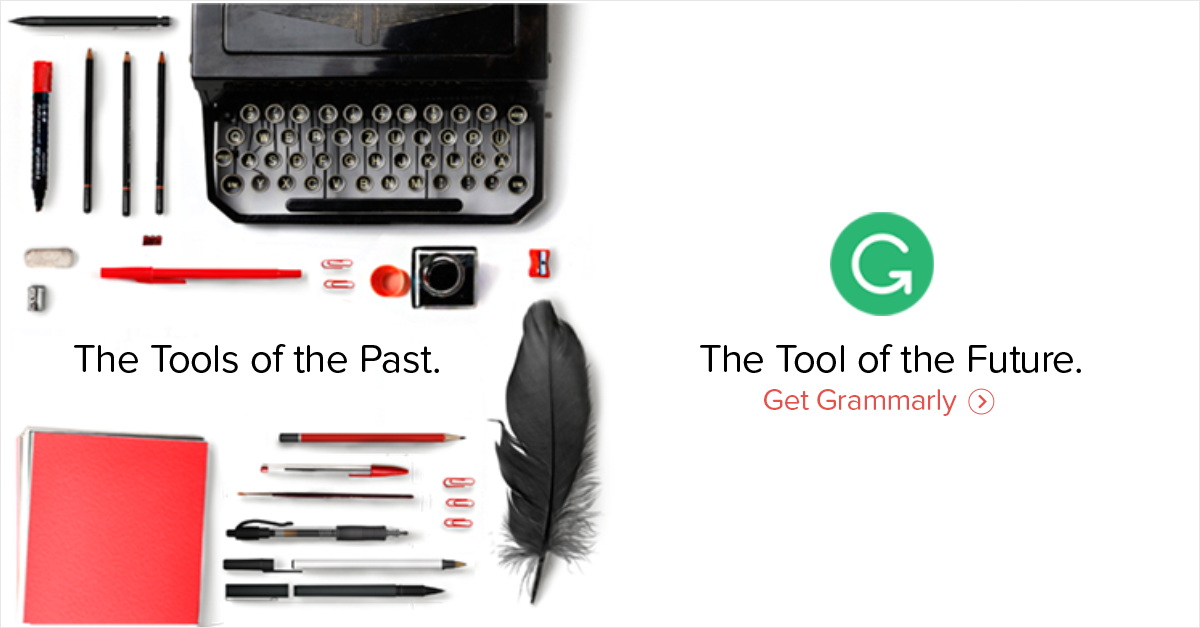 Not since I reviewed Gina Horkey's course, 30 Days or Less to Freelance Writing Success for The Write Life, have I reviewed another product. I'm doing it again because someone could benefit from using the service.
I'm going to share my experiences with using the service. Not only will you get a look into what I liked and disliked, there's a free premium membership up for grabs. Ya feeling lucky?
What Is Grammarly?
Grammarly is an online editing and writing tool. It works with your browser and flags your spelling and grammatical errors just like a word processor.
I fashion myself quite the grammatical expert. But I can get careless when I speed through the writing process.
Grammarly helps me catch errors due to momentary blindness by highlighting words or phrases that didn't look good in the context. It can spot the incorrect use of homonyms and discern between who and whom in a sentence with ease. Spelling, punctuation, capitalization, and syntax are all built into it, too.
What's Awesome About Grammarly
Like any other resources, expect both good and bad. Grammarly is great at what it does. But it could better help writers in some aspects, too.
Here's my short list of what I find useful.
Ease of Use
Grammarly is incredibly easy to use. Beginning writers and best-selling novelists would both agree. It just takes a few minutes to install on your browser and voila!
As part of their paid, premier subscription, Windows users can integrate Grammarly into Microsoft Word and Outlook.
Mistakes get flagged via a red or green underline. Fixing the error is as easy as clicking on it and selecting a correction from the drop-down menu.
It Babysits My Grammar Quitely In the Background As I Write
I can run through my thoughts and type away uninterrupted. I'm free to come back to my flagged errors when I'm done with my blog post or article.
Meanwhile, it runs quietly and doesn't disturb me with dings or other disruptions.
I Get Weekly Progress Reports…
I'm one of those nerdy people who looked forward to exams in college. Yeah, I know. It's crazy!
One reason I did (and still to love tests) is because it gave me a perspective of where I was in relation to what I had been taught. An A meant I had absorbed 90-95% of the material.
Grammarly lets you know how you're doing in the same way. Every week you'll get a nifty email comparing your progress to that of other Grammarly users.
Not only is my progress measured, but it also shows:
My most common issues and mistakes so I know to correct them and improve the quality of my work
My activity including a total word count of what I've written
The spread of diversity in my vocabulary
…And A Yearly Retrospective
In addition to these weekly versions, you'll also receive a yearly report. This one's a bit different and way more whimsical.
It's meant to motivate you and set you on a forward path in the New Year.
When I saw mine, I couldn't believe I'd written content equivalent in length to two Stephen King novels! It's made me more aware of what I do, for sure!
Works With Most Websites
There are some compatibility issues I'll get to later. Despite that, it's almost a universal app.
It works with email platforms, contact forms, all of social media (including Facebook, Twitter, and LinkedIn to name a few) and even in PayPal!
You become more aware of what you're writing, and who you're writing it to.
Integrates Nicely With Word
Windows users should invest in Grammarly! The app integrates with Microsoft Word to point out your boo-boos while you type.
It's the next logical step for a proficient Word-user.
What Drove Me Bananas
It can't all be good news, can it? Where technology is concerned, rarely are things as perfect as they could be. It's true with Grammarly, too!
Here are things that have left me shouting, "Are you kidding me?" at my computer screen:
Grammar-ly or Grammar Police?
As a Millennial writer, blogger, and general bad ass, I tend to do things like:
End sentences in prepositions,
Use words like "absofrigginlutely" 
Overuse keywords in a post to improve SEO, and
On occasion, allow the passive voice to be used by me in my writing 
"Uh-uh!" says Grammarly, "Step away from the keyboard with your hands up!"
Now, I get that grammar is important. But language has a certain fluidity to it. The Oxford Dictionary throws a big shindig to celebrate the year's newly-accepted word.
You can alter your settings within the app. But even the most casual form of writing is heavily scrutinized. If that happens, just click "Ignore." And it goes away.
Slows Down My Computer
Despite having in incredibly fast (well, it was five years ago when I bought it) computer, Grammarly sometimes has it crawling.
I know someone somewhere will point out five very valid reasons this happens that might have nothing at all to do with the app. And they're probably right.
But, I know my Mac-kie! And she wasn't running moving at a glacial pace before I installed Grammarly.
Causes WordPress to Duplicate Words
It's what gets on my nerves the most!
Few things annoy me more than wrapping up a rockin' edit and posting the finished article only to hear from my client several hours later (usually, six have passed and everyone has seen it!) asking about lines of duplicate text within my masterpiece.
Argh!
Here's what actually happened:
I (the brilliant Editor) moved around or deleted content from a post.
After SEO-modifications, I posted the article and moved on with my life. WordPress did not.
Tortured by (what can only be) memories of sentences long gone, WordPress rematerialized the deleted/edited out content. And made duplicates.
I haven't found a way around it, yet. And it seems to only happen in WordPress (and nowhere else).
Just like with my Mac, I know there's a technological explanation for the nuisance. All I know is, it didn't happen before.
If it happens to you, give your live post a thorough read-through. Identify problem areas. Hit "Edit Post." And take them out manually – hitting "Update" after fixing each one.
Compatibility Issues
If you're a Mac (like me!), you're used chasing after the purple unicorn that is compatibility! Nothing seems to work the way it was meant to. While everyone else is living a PC-life full of Microsoft-related fun, we Macs get used to the not-so-nifty Google Docs or iLife versions of the stuff we grew up using.
Corny melodrama aside, there are areas where incompatibility really sucks.
I have Microsoft Word (and the rest of the Office series) on my MacBook Pro. Grammarly (although fully compatible with PC's version of Word, et al.), will not work on my version of the same software. 😦
Doesn't Work In Google Docs
Most of my clients are on Goggle Drive. It's how we send docs back and forth. It being a web-based application, I assumed Grammarly would integrate just fine. It doesn't.
But I created a decent workaround.
Working Around Grammarly's Incompatibility with Google Docs
1. After completing my Google Doc, I select all the content (Command + A, for my Mac brethren) in the document and copy it to the clipboard (Command + C).
2. Then, I open up my Grammarly page. Here's mine as an example:
3. When it's open, I click on "New." Grammarly opens a nice blank piece of virtual paper.
4. I then paste my clipboard's content onto said blank sheet. Grammarly does the rest and goes to town red and green lining my errors and general misuse of the English language.
5. Once I click on all I want to fix, I copy the entire doc to the clipboard again. And paste it all back into the Google Doc – effectively losing all formatting altogether.
Note: If you experience this issue, wait until you've completed Step 5 to format your doc with headers, sub-headers, and font changes.
How I've Used It
I liken it to my iPhone's Autocorrect function – I'm annoyed by how it can't seem to understand that I didn't and will never mean to use the word "duck" in a text. A decade of using iOS and my devices still take me for a prude! Grammarly is rigid like that.
Sure, I find myself yelling at my computer screen, but I can't imagine writing professionally without it. There's so much that I had forgotten about – so many misspelled words and misplaced double entendres it's saved me from. It's been worth the headaches.
Since signing up for Grammarly's Premium Service in December 2015, I've been very pleased overall.
As for My Progress Reports…
Initially, my grades were improving. I cared about what it thought of me. I wanted to get the emailed version of an ole pat on the back. After a while, though, digital patronization lost its luster.
Now, I'm perfectly happy breaking and bending a few grammatical rules in favor of a meatier, more substantial piece of work. After all, it is my meal ticket!
I love the app! I'll never do without it. It's done amazing things for me. I'm a more confident professional writer, a more attentive editor, and more effective business consultant as a direct result of using this app.
Thanks to Grammarly, I'm over my overachieving love of exams and of earning A's. I rarely read my progress reports anymore. Where I used to memorize my weekly stats, today I couldn't tell you how it has ranked anything about me.
Still, I'm glad the info is sitting in my inbox, waiting to greet me with a healthy dose of reassurance when I need it.
Want to Try It Out For Yourself Free for Six Months?
The folks over at Grammarly graciously decided to offer one of my lucky readers their very own free membership of this awesome tool!
Back in December, the company offered me a free month to review the service and write about it. Other than my free month, I'm not being paid by Grammarly to write this.
They're excited to help one of my lucky readers improve their writing skills, develop confidence in their work, and save lots of time in the editing process!
Here's How to Enter:
It's easy!
Simply, leave a comment. I'll assign you a number based on the order you commented (i.e., first person to comment is 1, second person to comment is 2, etc.). I'll use a random number generator to determine the winner.
You have until 11:30 p.m. central time on Friday, March 25th, 2016. I'll email the winner the following day. Thanks for playing!
And good luck!
Contest Is Closed